Business Unfinished
Nick 'n Tom Present:
Business Unfinished
Devised by Tom Christophersen
Performed as part of Crack Festival 2015. First created through PACT's Vacant Room Residency 2014.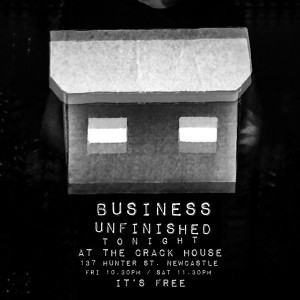 Tom Christophersen – Devisor, performer, sound design
Nick Atkins – Collaborator
Michael Andrews – A ghost
Sophie Haylen – Stage Manager
Tara Ridley – SX/LX/ Operation
The Official 'Business Unfinished' Soundtrack on Spotify:
The 'Business Unfinished' trailer (by Carl Giorgio) on Vimeo:
Thank you to the following contributors:
Seaton Kay Smith
Anastasia Bribas
Joanne Christophersen
With special thanks to:
Ellen Christophersen
Margie Breen
Katrina Douglas
Sophie Haylen
Michael Andrews and Chris Brown
PACT Theatre for Emerging Artists
Nick Atkins
Hannah, Finn and the team at Crack
THIS IS NOT ART
To download an instructional pack on how to donate a ghost story to be incorporated into future versions of the show click here.
'Business Unfinished' Images from Instagram: